Crowd Control Barriers | Industry Leading Selection

350U Series Vinyl Cover
Universal fit barricade cover style, double side print and durable mesh fabric and go ...
sku #UCVM350
100F Series Poly Cover
Custom fitted barricade cover, double side print and strerchy mesh fabric for easy fi ...
sku #FCPM110
300F Series Vinyl Cover
Custom fitted barricade cover, double side print and mesh fabric for easy fit and air ...
sku #FCVM350
400U Series Vinyl Cover
Universal fit barricade cover style, double side full color print and heavy duty fabr ...
sku #UCVS440
230U Series Poly Cover
Universal fit barricade cover style, double side full color print and stretchy fabric ...
sku #UCPS230
110U Series Poly Cover
Universal fit barricade cover style, double side print and mesh fabric for easy fit a ...
sku #UCPM110
400F Series Vinyl Cover
Custom fitted barricade cover, double side print and heavy duty fabric
sku #FCVS440
400F Series Vinyl Cover
Custom fitted social distancing printed Barricade Jacket designed help keep people sa ...
sku #FCVS440CV19
230F Series Poly Cover
Custom fitted barricade cover, full color double side print and stretchy fabric for e ...
sku #FCPS230
High Visabilty barrier with 11'L Belt
Perfect for heavy traffic areas. Multiple post & belt colors options
sku #SM450-110
Traffic Cone Mounted Belt Barrier - Extra Long
Choice of belt lengths between 15'L - 40'L, belt & Case colors choices
sku #SMCB600
Writing Table
Can be used with retracable belt stanchions. ideal space for paperwork or informati ...
sku #WTBL
HDPE Channelizer Drum with Weighted Base Truck Load (840 Units)
sku #CDHD
High Visability barrier with 11'L Twin Belts
High visibilty post and twin belts for heavy traffic areas.
sku #SMTWIN450O
Display Bowl
Perfect impluse buy item storage for use on top of retractable belt barriers.
sku #DB12-BK
8ft Linemaster Barrier|30 Rack Bundle
43in x 96in heavy duty interlocking with rack for fast deploy and easy mobility
sku #PBLMRBTS
8ft Linemaster Barrier|Cart Bundle
(25) 43in x 96in heavy duty interlocking with Storage Push Cart | 30 barrriers capaci ...
sku #PBLMCBTS
6' x 12' Inline Chain Link Fence Panel | Truckload Bundle
1⅜ in. 16ga Braced Panel with 2-1/4 x 12.5ga fabric | stands, clamps and stackable ra ...
sku #TPTLB612STD
6 Pack Retractable Belt Barriers
sku #U3434-BK-6pack
300F Series Vinyl Cover
Custom fitted barricade cover, double side print and mesh fabric for easy fit and air ...
sku #FCVM350
6' x 12' Inline Chain Link Fence Panel
Versa Chainlink Fence Panel with reinforced zinc finish with stand and hardware optio ...
sku #TP612S
Temporary Fence Panel Rack bundle w/ Base Options
Quick deploy temporary chainlink fence panel bundle with stand, storage rack and hard ...
sku #TPBB72STD
JerseyBlok 100
42"H x 72"L Standard Water Filled Barrier | 150 lb each and capacity to hold up to 13 ...
sku #RRM4272-100
JerseyBlok 175
42"H x 96"L Heavy Duty Water Filled Barrier | 175 lb each and capacity to hold up to ...
sku #RRM4296-175
Safeguard 36 + Topper |Truckload Bundle
NCHRP crash tested jersey barrier + Fence topper bundled to save you a bunch
sku #SGBTTL36
6ft Fencecade Barrier | 20 Pack Bundle
6ft x 7.5ft heavy duty interlocking fence for fast deploy and easy mobility
sku #PB7290RB
6' x 10' Inline Chain Link Fence Panel
Versa Chainlink Fence Panel with reinforced zinc finish with stand and hardware optio ...
sku #TP610S
230F Series Poly Cover
Custom fitted barricade cover, full color double side print and stretchy fabric for e ...
sku #FCPS230
6' x 10' Inline Chain Link Fence Panel| Truckload Bundle
1⅜ in. 16ga Braced Panel with 2-1/4 x 12.5ga fabric | stands, clamps and stackable ra ...
sku #TPTLB610STD
7.5ft Classic Barrier | Cart Bundle
(25) 42in x 90in Super heavy duty barrier with Storage Push Cart | 30 barriers capaci ...
sku #PB4290BNDL25CRT
Popular Accessories See all
Gate Wheel Stand
sliding wheel stand build for the Classic barricade model to make barricades work as ...
sku #PBWF
Sliding Gate Stand
sliding wheel stand build for the Classic barricade model to make barricades fast de ...
sku #PBSGS
Barricade Transport Cart
Made from premium grade steel provides an easy and safe way to pick and move up to 30 ...
sku #PBHSCART
Barricade T-Stand
36in H x 39in L HDG T-stand barricade feet compatible with the Classic PB4292 model
sku #PBTS
Bridge Stands
36in x 39in Pair of Y stand style mostly used on uneven terrain. Only compatible with ...
sku #PBYS
Guardian Barrier Cart
Easily transport and hold up to 10 stage barriers on stackable carts to save time and ...
sku #SSBCART
Literature Holder (2) Pocket
Duel Sided pockets to hold 8.5" x 11" literature on top of retractable belt barriers. ...
sku #LITHLDR2
Acrylic Stanchion Signs | Multiple Options Available
sku #ss
SmartQ Sanitizer Station
SmartQ Automatic Station that can be easily attached to the stanchion post
sku #SQBABSR
Vertical Stanchion Storage Cart
Fits 18 stanchion posts
sku #VSTCART18
Paper Sign Holder
Perfect for signs that need to be changed regularly by holding standard printer paper ...
sku #PSH
Acrylic Sign Bracket
Post top adaptor to hold acrylic signs for both rope and belt stanchions
sku #SB-1
Display Bowl
Perfect impluse buy item storage for use on top of retractable belt barriers.
sku #DB12-BK
Sollage Fence Racks
Universal fence panel transport racks for 6ft x 12ft and 6ft x 10ft chainlink fence p ...
sku #TPRACK
Black Sign Frames For Stanchion Posts
sku #SF
HOW STRAY PRODUCTIONS
SAVES TIME, DECREASES
LABOR COST AND INCREASES
SAFETY WITH SONCO'S
STAGE BARRIER
Since 1999, STRAY Productino Services have created
awe-inspiring events that live on in memory long after the
lights dim. Based in Lititz, PA, the professional production
team serves clients and venues across Pennsylvania and
beyond.
View Success Story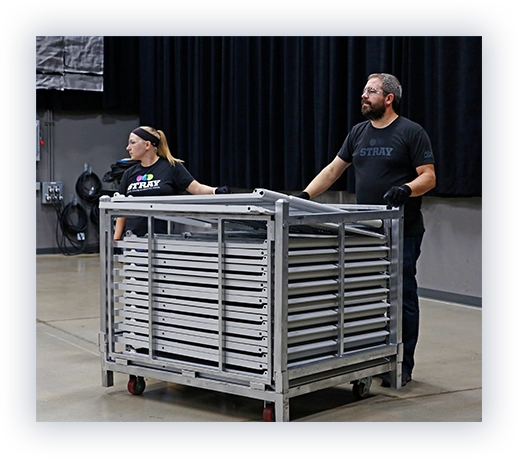 HOW STRAY PRODUCTIONS
SAVES TIME, DECREASES
LABOR COST AND INCREASES
SAFETY WITH SONCO'S
STAGE BARRIER
View Success Story
The Ultimate Crowd Control Barriers: The Leading Barricades in The Market

Sonco offers the selection, quality, and special offers on crowd control barriers designed to get you the most out of your perimeter security and crowd control investment. We sell a variety of barriers and barricades for the all-encompassing solution, including custom design and signage services.
Choose from steel barricades, plastic barriers, and water filled barriers, all crafted to the highest industry standards – and delivered by experienced experts and customer service professionals. When you're looking for a proven commitment to overall excellence, choose Sonco, an industry leader for over four decades.
All crowd control barriers that you find at the Sonco store are carefully curated based on field research, industry feedback, and extensive testing. We don't go based on the minimum guidelines – our goal is to set the standard for quality crowd control barriers to keep people safer, keep you more protected from liability, and keep your workers more productive.
Here, you'll only find the best of the best, backed by warranty, offered at unbeatable prices, and shipped to you quickly. Our goal is to form long-term, mutually beneficial partnerships with our clients, and that starts with the highest quality products for the lowest prices.
What Makes Sonco Crowd Control Barriers Different?

We pulled from almost half a century of experience to supply the highest quality, most durable, longest lasting crowd control barriers available today. Over these decades, we've also developed close partnerships with manufacturers to ensure we can guarantee our customers the lowest possible prices.
Here are some things that make Sonco metal barricades stand out from the crowd:
1 Year Unlimited Warranty backs up every crowd control barrier.
Unrivaled longevity. Hot-dipped galvanized finish means Sonco crowd control barriers last longer no matter the weather conditions, from sub-zero frost to high winds and beyond.
The most trusted brand. Our heavy-duty barriers feature 25% more steel, a level of quality used police departments and other law enforcement institutions, including NYPD and the Secret Service.
Curated selection. Sonco offers the most versatile range of metal barricades for any application. Find a wide variety of barricades, from high-security protocols to visual deterrents. When you're diverting vehicles or people, indoors or out, in malls or schools, around construction sites or for events, we will have what you need.
Easy setup, storage, and transport. Our high-quality Barricade Cart will help you quickly and easily transport 30 steel barricades with its respective T-Stands and Y-Stands, saving you money and time during deployment, breakdown, and storage.
Looking to make your job easier while enjoying total peace of mind? Partner with Sonco today!
Meet The Sonco Crowd Barriers Solutions

Crowd control barriers are separated into three categories: steel barricades, plastic barricades, and water-filled. At Sonco, we offer both up to the highest standards of quality – while making these barricades for sale at the lowest possible prices.
Sonco customers rely on Sonco products to avoid unnecessary liability. Buying the right product the first time means long-term peace of mind in a variety of ways. And in many cases, a difference in quality can mean life or death.
The steel barricades are sometimes called bike rack barricades or French barricades. They're extremely durable, but also simple to move and store. When you're looking to barricade an area, you want seamless interlocking, all-weather durability, and total longevity. That's exactly what Sonco products provide.
The plastic barricades are utilized for more lightweight applications. For example, vinyl event fencing delivers the aesthetic appeal of white picket fencing, and bright orange plastic barricades are a great choice for short-term safety areas. At Sonco, we have all the crowd control barriers to ensure our selection covers every possible application within all industries.
The water-filled barriers are usually used for traffic safety applications. These are crash-test rated and NHTSA certified to ensure it meets a wide range of safety regulations. Examples include water-filled jersey barriers, which can include chain link fence toppers for added security and privacy.
Read on to learn about each of these different products, including the valuable (but highly affordable) accessories that can take these to the next level.
Steel Barricades

Most people outside of the industry don't realize it, but many urban area residents rely on steel barricades on a daily basis. A simple commute to the office can reveal how much crowd control barriers are part of our lives, whether used as police barricades, construction barriers for pedestrians, or creating safe perimeters for outdoor events.
The steel barricades for sale at Sonco are used for some of the biggest events in the US, including the Presidential Inauguration, the Times Square Ball Drop, and the Macy's Thanksgiving Day Parade. These events require the highest level of crowd control capabilities, which is why these event coordinators turned to Sonco.
But here, we don't recommend the most expensive product. Our team offers advice specific to your applications, and the most expensive isn't usually the best choice. In fact, best practice is a combination of practicality, efficiency, and making sure you're prepared for the unexpected.
Below, we'll go over each type of steel crowd barrier to give you the insight you need to make the best purchasing decision for your work zone, event, dining area, queue, or any other purpose. Because these are famously versatile products, the possibilities are unlimited.
Heavy-Duty Barriers
The name "heavy-duty barriers" reflects their purpose: these are made for crowd control applications that require extra durability.
The best example is law enforcement applications. The NYPD uses Sonco's heavy-duty crowd control barriers to ensure the highest levels of safety at some of the world's most heavily attended events. From parades to music festivals, the more people that are expected, the more heavy-duty you want your barrier.
If you're a rental company looking to stock your offerings, used for events like the Times Square Ball Drop and the Presidential Inauguration are big selling points. When you choose the barricades for sale at Sonco, setting yourself apart becomes that much easier.
Here's an overview of the different types of benefits you can enjoy with heavy-duty steel crowd control barriers:
25% more steel than standard bike rack barriers, providing total peace of mind.
Unrivaled longevity, lasting longer in all weather conditions as well as coming in and out of storage day after day.
Interlocking to create uninterrupted barricade lines of any shape and size.
Available in exclusive bundles that can save you huge per item. Here's a bundle for our 8' linemaster barricades, which includes a transport cart.
Compatible with transport and storage carts, greatly reducing the burden of their heavier weight.
When you're expecting your barricades to take a beating, it's cheaper to invest in the heavy-duty crowd safety barriers than it is to replace the lightweight options. However, the lightweight barricades may be the better option.
Lightweight Barriers
Lightweight barriers are often the best choice for less intense applications, as you can more quickly and easily transport and store these products. And while the steel gauge is a bit less than the heavy-duty options, this is still premium-grade material that outlasts all competing products.
Here are some of the aspects that set lightweight barriers apart:
Highly compact for optimized storage capabilities.
Cheaper to transport, as they put less weight on the trucks.
Interlocking to deliver the same level of crowd control efficiency as their heavy-duty counterparts when used in lighter applications.
Available in custom bundle deals. The more you add to your order, the lower your price per item!
Extremely affordable compared to the heavy-duty options, particularly when you're buying in bulk.
We're a transparent company with a steadfast commitment to getting you the best product. So we want to emphasize how that doesn't mean the most expensive or the one packed with features. For many crowd control applications, the lightweight option gets the job done better than a heavy-duty option.
Of course, the heavy-duty steel barricade can take the place of a lightweight barricade with ease while a lightweight barricade can't take the place of a heavy-duty option. But there's no reason to be "better safe than sorry" when you have a team of experienced experts on-call.
To find out which is right for you, contact us today!
Barricade Carts
The most affordable way to skyrocket productivity, safety, and storage efficiency is with the barricade carts at Sonco. These are a standard inclusion in our barricade bundles, but we also sell them separately.
However, be sure that the barricade cart you're ordering is the right one for your type of barricade. It should be the right width and length, and accommodate any special circumstances.
For example, the stacking barricades will likely need a different type of cart than non-stacking barricades. Bike rack barricades will need a different cart than the Guardian stage barriers.
The awesome thing about getting a cart from Sonco is the assurance that it's made up to the same incredibly high standards as the products themselves. This includes:
Built to the standards of the American Welding Society.
Made for indoor and outdoor use.
Reliability that extends from the handles to the wheel housing units.
Able to sit in storage for months on end.
Our barricade carts also hold 30 barricades at once while leading alternatives only hold 15. That means you're getting twice the productivity in one purchase, and our cart is likely cheaper on top of that.
Avoid injury, boost productivity, and optimize storage with a Sonco barricade cart today.
Crowd Control Barricade Covers
Combine your purchase with barricade covers. These are an excellent way to boost brand recognition, create a more exciting atmosphere, promote an event, and so much more.
You can add your logo or artwork with custom-printed covers or signs. Our design team can create something from scratch, or render and resize your files to the desired barricade free of charge.
Every steel barrier is an opportunity to advertise products or services, tease something coming soon, or simply add aesthetic appeal. We're not just perimeter security experts, we also have marketing professionals who can optimize your project to deliver the biggest impressions. There are few better ways to boost ROI!
At Sonco, our barricade covers go beyond simply getting the word out. Here are some of the highlights of a Sonco barricade cover:
Incredible longevity, lasting for years in even the harshest environments.
Photo-quality images, making the design potential truly limitless.
Fitted to perfection, ensured by the quality of our sister printing company.
Free proofs before you make a purchase to ensure you're getting what you want.
Delivered for free, saving you money in more ways than one.
On top of the highest quality barricade covers, we offer the guaranteed best deals. And that extends to the barricade covers as well as the design services. Get everything done at once with Sonco today.
Powder-Coated Barriers
Our steel barricades already feature high gauge steel that's then hot-dipped in a zinc for a galvanized coating. This means it combats all the elements for years of constant use.
However, powder-coated barriers take that a step further by adding an additional layer on top of the galvanized steel. This is the most durable, longest lasting barricade possible. If you're looking for the longest possible investment, the kind that means no worrying about replacements for a decade or more, the powder-coated barricades for sale at Sonco are the way to go.
We also offer powder-coating for our crowd control barriers in a wide range of colors, which means you can:
Boost safety with high visibility colors like orange, yellow, or red.
Match your brand with a coat that matches your company's aesthetics.
Use these in indoor environments where steel wouldn't look right.
Create alternating colors for a more unique setting, such as white and black.
At Sonco, we offer the best deals on powder-coated barriers in any color or style you could want. We also may be able to provide powder-coating on products that don't feature that option on the product page. Just reach out and ask! And for an unbeatable price, request a free quote today.
Plastic Barriers

The plastic barricades for sale at Sonco are lightweight, extremely durable, and available in several colors and styles to suit your needs. We only use the finest polymers and utilize the most effective designs, then test thoroughly selection in-action before anything is made available online.
From parking lot barricades to water-filled barriers for highway work zones to expandable door barriers, you'll find the highest quality items on the market today – for hyper-competitive prices. Reach out to our customer service team to find out any special deals going on right now.
Looking for the highlights? Here are some key aspects, and more details will be detailed on each product page:
Lightweight meets long-lasting. Made for both indoor and outdoor use, we're confident that every Sonco plastic barricade will outlast the competition. Don't let the transportability fool you – despite the lightweight design, these are heavy-duty plastic barricades that do the job right.
The easiest in setup and storage. The optimal plastic traffic barricade is easy to cart or carry. It's quick and simple to fold and/or stack. It looks just as appropriate inside as it does outdoors. And it stays looking brand-new for years. Is the best solution for portable barricades.
Customized to suit your needs and space We can customize your plastic barricade in a variety of ways. This includes shape, size, features, and custom branding. The possibilities are truly limitless – and when you bundle your purchase to create a complete barricade system, you save huge.
The first step is giving us a call at (888) 766-2615. We'll make the rest incredibly easy – guaranteed.
Vinyl Event Fencing
Vinyl event fencing is made to mimic white picket fencing. The result is a high-end type of barricade that's more aesthetically pleasing than many other options.
While the possibilities can extend far beyond these examples, the most popular applications for vinyl event fencing include:
VIP areas at events both outside or in.
Bar areas to separate the alcoholic beverages from the rest of the event.
Areas for sampling new products at conferences, summits, and conventions.
Smaller parades that celebrate a specific demographic.
Temporary setups, like Christmas scenes or plant and animal shows.
Any application where cordoning off an area is more important than controlling a large crowd, this is a great option. It looks high-end but it's awesomely affordable too.
However, while a potentially effective form of crowd control barrier, this type of event fencing is not made for high pressure environments with large, rowdy crowds. This type of fence relies almost entirely on people following along, and some people could step over it if they so choose.
For example, a parade like the Macy's Thanksgiving Day Parade is best off with steel walkway barrier systems. The vinyl fencing is for smaller crowd sizes and VIP areas.
ADA Pedestrian Barricades
We have ADA compliant plastic barricades that feature smooth edges, lightweight builds, and high visibility colors. These are made to keep all people not just safe, but comfortable.
We pull directly from ADA guidelines to find the products that comply across state lines. However, there may be more specific requirements per your local area. Things like reflective tape, lights, and other accessories may be needed as well to ensure the highest levels of safety and accessibility.
Further, other forms of crowd control barriers could make more sense for ADA crowd management. A great example is the double retractable belt stanchions, which are ideal for ADA-friendly queueing rather than barriers.
Our team offers no-obligation advice specific to your venue, requirements, and circumstances. Give us a call anytime, and we'll help you identify the best equipment specific to your goals.
Safety Barricades
We offer a wide variety of safety crowd control barriers that go beyond the steel bike rack barricades. These include plastic options that serve a similar purpose but are more specifically used for safety applications.
For example, schools will likely prefer a brightly colored plastic safety barricade over a steel version for some situations. These are also common options for playgrounds, gyms, and other similar applications.
But make no mistake, these go beyond being extremely noticeable. These have the portability, versatility, and strength that mean productivity and longevity come with the territory. They're also incredibly lightweight, so you can transport using a sedan and store them in a range of storage containers.
Expandable Barriers
This product's biggest competitor within the Sonco store is the retractable belt barrier. But where the belt barrier wins for compact shape and a cheaper price, this one wins in terms of safety and security.
When not in use, the Xpandit expandable barrier can be folded in to fit inside a broom closet with tons of room to spare. When a cleaning needs to take place, simply expand it across the hallway or entrance, and you can rest easy knowing the hazardous area is secure.
With the MultiGate Barricade, you can set up fast and effective outdoor barriers to keep people from venturing down one side of the sidewalk or entering an unsafe area. Just like with the Xpandit, the MultiGate collapses into one compact piece of storage that's comparably efficient to that of the stanchion.
Water Filled Barriers

Our portable traffic barricades live up to their name, with both fantastic portability and unmatched safety for traffic control. A top alternative to concrete barriers, road construction barricades from SONCO boast energy-absorbing designs alongside exciting affordability made to be the best traffic safety solution.
The features and benefits include:
The highest level of durability, longevity, and protection. Withstand the harshest weather conditions and resist dents and cracks.
FHWA MASHTL-1 approved as a longitudinal Channelizing Device(LCD).
NCHRP crash rating.
Interlocking barricades feature 90-degree rotation.
UV-resistant colors stay vivid year after year.
Heavy-duty when you need it, light and easy when you don't. Load and unload on the fly. Our top fill opening and bottom plug makes filling and emptying on-site a breeze.
Water Filled Jersey Barrier with Fence
A water-filled jersey barrier may be enough on its own. But if you want to skyrocket safety and security, a chain link fence topper is a great way to do it.
In terms of safety, the fence topper serves to increase visibility while preventing distractions that can come from seeing roadwork. You want them to focus on the road, not on what you're doing behind the curtain. That's where the fence comes in, and we'll get more into privacy screens in the next section.
For security, you likely have few (if any) personnel on-site overnight. While you can set up cameras and automatic security lights, some thieves are opportunistic. A chain link fence topper is a major deterrent, not just for keeping people from breaking into the work zone, but also to eliminate temptation.
Worse than when they're simply passing a construction site on the sidewalk, they have a car they can fill up with your equipment and material. That's yet another reason why a fence privacy screen in this instance can be so beneficial.
Fence Privacy Screen
Add a touch of privacy by adding fence screens to your fence toppers. Whether your goal is to block prying eyes or increase the aesthetic appeal of your perimeters, Sonco carries a range of products made from a mesh banner that allows wind passage.
At Sonco, our fence privacy screens boast the following highlights:
Lasts up to 3 years. We guarantee it for one, but in some environments, these have been known to make it three full years without needing to be replaced.
Extremely affordable. Once they do tear and there's no more left on the roll, you can get a new one for an incredibly low price at Sonco compared to other suppliers.
Available in several transparencies, materials, and colors, so you can customize even the standard options.
Total customization means you can turn your fences into billboards to create ad revenue or increase your brand awareness.
Further, our optimized OSHA signage fence screen means your safety messaging is presented on one, clean, custom sign. This is the ideal alternative to having several construction zone signs, which make them hard to read and annoying to set up, break down, transport, and store. It also doubles as a fence privacy screen!
Barricade Lights
The two molded-in pockets on top of our water-filled barriers are the right size for standard blinking lights. Industry experts turn to this accessory to add or meet specific safety standards when construction barricades are required.
For multi-day projects where traffic is adjusted around the work zone, barricade lights will likely be essential. While reflective tape will help the barricades stand out, lights are a way for the car to see an upcoming hazard far enough in advance to slow down to safer speeds.
Further, lights are incredibly important when you need to cut through fog or rain. And you don't want to be caught without the lights you need if inclement weather suddenly hits.
When ordering a water-filled traffic safety barrier, such as our plastic jersey barriers, it likely makes sense to add lights to the order. For the situations where they're not needed, they can be easily removed and stored until you do, as their durability ensures they can come in and out of storage repeatedly.
Concert Barricades

We offer aluminum stage barriers that are best practice options for live show applications. These are used by some of the biggest live entertainment companies in the US, including Stray Productions. Read their success story here.
Our Guardian aluminum concert barricades for sale feature:
Lightweight but heavy-duty material for the ultimate in productivity and longevity.
A variety of features, from snake runners to gates, and from straight sections to corner pieces.
Compatibility with Mojo Barriers and other leading brands.
Standing platform to eliminate trampling from crowd surges.
Folding mechanism for incredible storage capabilities.
Complete stage barrier systems available at unbeatable prices.
Free Shipping in the continental United States.
We can also formulate custom bundle deals around this order. This is especially popular for when you're creating a full stage barrier system from scratch. Make sure to include the transport cart for an awesome productivity boost!
Protecting a stage with steel barricades is poor practice that has resulted in serious injury. This is because a crowd surge simply collapses the barricades, which can result in catastrophic consequences.
You don't want to be in the next viral video, you want to make sure your staff, the performers, and the crowd are safe and secure. Go with the Guardian concert barricades for sale at Sonco for the smartest, best practice concert barrier.
Looking for Barricades For Sale? Order SONCO Crowd Control Barriers Today!

Not everyone is an expert on crowd control barriers. If they were, we'd be out of a job! While you focus on the million other things you have to do, let our team of experts optimize your crowd control barriers. Provide the specs, and we'll mock up the perfect concert barrier, event safety system, construction site protection, or whatever the case may be.
Only Sonco offers an unlimited 1 year warranty against manufacturing defects on all crowd control barriers. Our goal is to create a frictionless buying process, and give all our customers peace of mind that they're receiving both a great product and matchless customer service.
Here are some other amazing benefits that only Sonco customers have access to:
Safe Shopping. We don't keep any financial information on record to ensure the highest levels of client privacy.
Price Match Guarantee. We'll beat or match any online advertised price.
Credit Program. Buy now. Pay later. Apply for extended credit today.
Bulk Order Discounts. Special pricing crafted to your needs on large quantity orders.
Proprietary Ordering Platform. Seamless, intuitive, and convenient access to order status, reordering, transaction history, credits, quotes, and your own customer dashboard.
We work every day to set a new bar for others to follow, staying up-to-the-minute on industry needs – and optimizing our products accordingly. That way, we can always assure our clients that second-rate alternatives are just that: second rate.
When you're looking for the best deal on the best crowd control barricades for sale on the market today, make Sonco your first and last stop – and we'll get right to work on exceeding your expectations.